SKILLED NURSING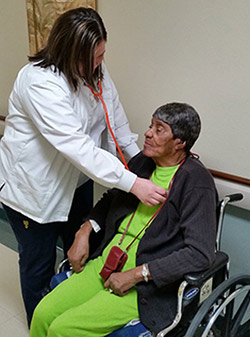 Up to 100 days of intensive interdisciplinary care provided by RN's, LPN's, CNA's, Licensed Physical Therapist, Occupational Therapist, Speech Therapist, and other healthcare professionals coordinating your individualized treatment plan with your physician with the goal of getting you back to your home in the community after your short stay with us. We are pleased to offer private rehab to home rooms for short term residents looking to return to the community.
LONG TERM CARE
Make Good Samaritan your "home away from home." We offer long term care for chronic conditions such as Alzheimers Disease, Dementia, Parkinson's Disease, Diabetes, general debility, and other medical conditions.
HOSPICE CARE
Good Samaritan is proud to partner with several reputable Hospice providers to deliver compassionate care and comfort measures to those nearing the end of life. Working with the resident and family, we provide symptom management combined with emotional and spiritual support throughout the journey. Care is customized to meet each individual's unique needs and end of life wishes.